The Point!

a collaboration between Dan Robinson & Liz Stirling



-------------------------------------------------------------------------------------------------------------------------
>>>In Progress:
------------------------

'International hoop' - event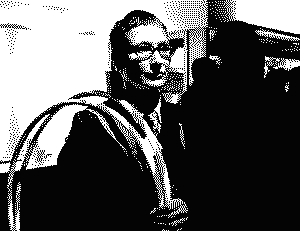 reception for international students
Leeds, November 2004

more...


-------------------------------------------------------------------------------------------------------------------------
>>>Previous projects:
---------------------------------

Meeting at The Point! - fieldwork

'We are curating a series of encounters and dialogues in civic space. For a recent field-trip to Cookridge Tower, we invited a painter and a writer to work with us. We set up camp next to this communications tower, prominent on the Leeds skyline and drew attention to ourselves with a tent, tripods, easels, binoculars and conspicuous activity on the grass verge. A dialogue was established with staff of the tower. Evidence was collected as sound recordings, photographs, a painting and written accounts. '

more...

abstract...




-------------------------------------------------------------------------------------------------------------------------

Meeting at The Point! - text
| | |
| --- | --- |
| Time and Space | Liz Moroney |
A black rabbit shape has been dropped in the nine yard box. Empty and destroyed plastic thrown with varying degrees of talent from the road. Dead orchid by steel railings

Generic Gardens' bus stop, grass verge. Cars pass, the bright blue sky pivots on white poles. Clouds and aeroplanes rush east overhead. Suburbia coated in different shades of grey stubble. Closed lives and doors. A taxi waits.
Walled gardens block out 7% sky and light. Bastard daisies rampage across the public patches. Hot tar steams dark purple.

The artist evolves his painting according to the fluctuating blues and yellows on the tower. This uncelebrated structure articulates some of his visual ideas. Having painted from photographs of motorway mundacity, he favours psychedelic colours, exaggerating and abstracting down to a more graphic language. The utilisation of anonymous vinyl cutouts appeals. The traces of previous people presence are the marks he means to record instead.

Arrogant but charismatic domination of landscape by BT tower. Off-white drums tacked onto central column like scouts badges on a jumper. Fighting to listen to your most awkward conversations, and find out the real reason you didn't go to work today.
Ascend up stuttering ladders and rusted rings. Cut out rectangles for doors, bright, cool, open onto 360 degree omniscience. Uniquely, everything apart from the tower can be seen. Remnants of birds' bowels are curiously crunchy. Dubious gaps in floor and enthusiastic use of black insulation tape. Redundant satellites reserved in case of role in corporate brainwash or similar. New and old drums await birth and death on the ground below, incomprehensibly big and small.

Surveying the free and bound space from above, the clouds have stopped running and cars slide through loops. Arbitrary angles of walls and hedges collude with staggered heights of buildings to create the naivity of a low-fi CAD drawing. Would sir like his custom-made Yorkshire vista in autumnal mahogany or midsummer ochre?

The tower is manned by an ex-Butlins blue coat who fell in love and ever since maintained the structure; envy of the town in summer, and butt of jokes in winter. His boss, Reg, parades the ground level control room of time machine buttons, dials and Safety At Work laminations, content in this vacuum and his faded gameshow host charm.

Behind is a water tower, it's cool grey languid concrete hidden by an unnecessary amount of fencing and Scots Pine. Doctor Who architecture. Is it a dual purpose spaceship? Or a tardis of undefined territory, landed in this alien area of pocketed lives and the determinedly lost and found?
-------------------------------------------------------------------------------------------------------------------------

> HOME